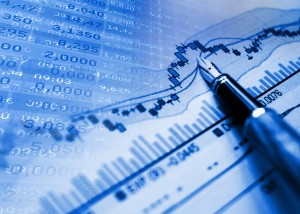 The economic outlook for 2014 is guardedly optimistic, following a sluggish and disappointing 2013.  Experts are predicting that the job market is likely to continue to grow, which should boost consumer spending.  Export growth should also increase, as demand grows throughout Asia and Europe.  This time last year, as 2012 drew to a close, the economy was in a precarious position.  The fiscal cliff and sequestration were the focus and there was far more fear regarding the economy.  Even if problems were to occur again in 2014, such as another government shutdown, everyone now understands that the impact will not be devastating. Hence, there is reason to be more optimistic than last year.
What Happened in 2013?
Consumers and businesses faced a number of challenges in 2013.  Payroll taxes increased, which put a damper on consumer spending.  Economic growth was also slow during the year.  The average growth in our domestic economy over the last half century or so has been about 3% per year, but in 11 of the last 15 quarters, the rate of growth has been less than that.  Part of the problem is payroll growth, which has been about 75% less than previous post-recession periods.  Job and payroll growth did occur in 2013, but it was extremely slow—not the usual post-recession bounce.  Wage growth was also an issue, as it grew at approximately the same rate as inflation, so it had very little impact on real income growth.
As the year draws to a close, things appear to be settling down and possibly improving.  GDP increased at an annual rate of 3.6% during the third quarter (Source: http://bloom.bg/18Frz9v).  The inflation rate was 1% during the year (Source: http://www.tradingeconomics.com/united-states/inflation-cpi).  Average single-family home sale prices saw a significant uptick in 2013 that is expected to continue into 2014.  Homebuilding is one of the few places where there is outright optimism, as home prices have reached their pre-recession peaks in many coastal markets.
The S&P 500 has reached record levels as the year ends, and is expected to drop just a bit as 2014 begins (Source: http://www.forecasts.org/stpoor.htm).  Consumer confidence hit a two-month high on December 1, erasing much of the decline that happened in the period following the government shutdown.  Experts are calling it the best level for a start to the holiday season since 2007.  Slight improvements in the job market and a concerted effort by retailers to discount merchandise are believed to be fueling spending.
Looking Forward to 2014
Economic growth is expected to continue in the coming year, but nobody is predicting it will be dramatic.  Experts are expecting the unemployment rate to shrink by about 1% and consumer spending is expected to see an uptick as a result (Source: http://www.tradingeconomics.com/united-states/unemployment-rate).  Economists are still somewhat pessimistic about the coming year, but they have guarded hope—more so than at this time last year.
Uncertainties such as how the healthcare changes will affect consumer behavior throughout the year and businesses toward the end of the year are keeping expectations in check.  In general, nobody is predicting that the growth that occurs will be so dramatic as to have a major impact on the average American's net worth, but slight growth is better than nothing at all.  Overall, experts are predicting economic growth to be light to moderate in 2014.  This bodes well for all major industries, including travel, hospitality and leisure.
Archives
Categories
Recent Posts